You are here
SMA CONTINUES TO SUPPORT GIRLS IN ICT DAY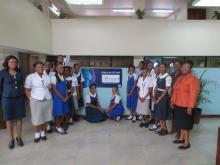 Kingston, April 23, 2015 – Every year on the fourth Thursday in April, the International Telecommunications Union (ITU) and the global technology community celebrate 'Girls in ICT Day', an awareness-raising initiative designed to promote tech careers and studies to a new generation of girls and young women.
Launched by the ITU in 2010, the day is part of an international drive to encourage more female students to study STEM subjects - science, technology, engineering and mathematics - and consider a career in information and communication technology (ICT).  It aims to counter the chronic global decline in the number of female ICT students, which is in turn contributing to a predicted global shortfall of at least two million ICT jobs which will not be able to be filled through lack of qualified staff.
The Spectrum Management Authority (SMA) again supported this initiative this year by hosting fifteen (15) female high school students between the ages of 15 and 18, and their teachers, at its offices located at 13-19 Harbour Street.  The students represented Convent of Mercy Alpha Academy, St. Hugh's High School for Girls and Vauxhall High School. 
The event was designed to give students the opportunity to meet with members of the SMA's engineering team and to discover more about ICT and in particular telecommunications engineering.  The day's activities included a career talk by Judy Anderson, Manager, Operating Systems & Special Projects, Mahlangu Lawson, Telecommunications Engineer and Cheyenne Powell, a former SMA summer intern.  
The day ended with the girls participating in a 'Fox Hunt', an activity where a radio transmitter was deliberately hidden in the Emancipation Park.  The girls used a special hand-held device to locate the transmitter.